Geeks on Wheels would like to wish our customers a very Happy New Year, and what better way to start 2015 than with 3 great programs designed to keep you safe and make your time online simpler and more enjoyable.
Details of software and links to download are below.
If you require any further information or assistance please visit our website or call us on: 0203 051 7977
---
Having problems remembering passwords? Do you wish there was a better way?

Dashlane Password Manager solves all password worries and has many other useful features:
·         Import existing passwords from your internet browser into Dashlane secure password vault.
·         Automatically login to websites without entering passwords.
·         Check how secure your passwords are in the Security Dashboard.
·         Get security alerts when any of your accounts may have been compromised.
·         Generate strong new passwords.
·         Store secret notes in your vault ie wifi password.
·         Share passwords securely with other Dashlane users.
·         Compatible with Windows, Apple and Android devices.
·         Automatically store receipts for online purchases.
All these features are completely free with no time limit.
Once an account has been created, a 30 day trial is started and in that time, passwords will be backed up and synchronised to all devices. Once the trial expires, if you would like these features to continue you can pay for a premium subscription. If not, all functions apart from Sync and Backup will continue to work normally.

---
Bitdefender Antivirus Free Edition
If are looking for the best free antivirus or have been disappointed with your existing security, Bitdefender Antivirus Free edition offers a powerful and silent solution.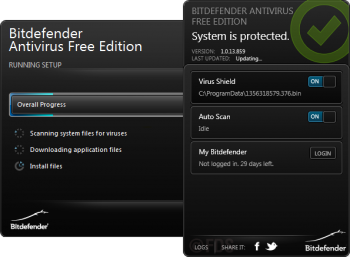 ·         Non-intrusive – no questions to answer, no configuration required
·         Will not slow your PC down
·         No annoying adverts
·         Real-time shield to protect against incoming threats
·         Active virus control protects against viruses, even unknown ones
·         Intrusion detection monitors programs for malicious activities
·         B-Have checks programs you run for malicious activities
·         Web links are scanned to protect against scams such as credit card phishing
·         Anti-root kit protects against stealth viruses that activate when you start your PC
Bitdefender Antivirus Free Edition uses an intelligent mechanism that can automatically take the optimum decisions to provide ironclad security without slowing down your computer.
---
Livedrive Online Backup
How safe are your files? When did you last backup?
Would it be a disaster if you lost them?
For just £3 per month, Livedrive offers peace of mind and you can be sure your files are safe and secure. Multiple copies of your files are kept, so you can get to them at any time, and are encrypted with military-grade encryption, so that they're completely private. If you need help at any time we provide free support.
Keep your files safe
Livedrive works quietly in the background to protect your files as you use your computer. You don't need any technical knowledge, and it backs up all of your files - no matter how many you've got. You can restore your files at any time with one click.
View your files anywhere
Once you've backed up your files with Livedrive you can view them from anywhere - from any web browser, or from your mobile and tablet. You can view your photos and documents, and even listen to your music and watch your movies, wherever you are.
Why Remote Computer Support Is Needed?
Remote computer support, also known as remote computer assistance, is a lifesaver for many people. This is a technology that lets you sit down in front of your computer and allow someone at another computer to take over your computer. Sound confusing? It is actually very simple. For instance, if you are having an issue with the way your computer system is running and do not know why or how to fix it, you can contact a company that provides remote computer support. A person at the company will help you give them access to your computer so that he/she can take over the system and figure out the problem so that it may be fixed. It sounds like magic, but it is simply the technology that is growing more advanced with each passing day.
How Does It Work?
There are several companies that specialize in remote computer support. Each one works just about the same way. The main differences are found in the costs, the expertise and the quickness of the application. Although the process itself may sound complicated to the laymen, it is actually quite simple in nature. Once a provider is chosen, you are given a web address that contains another link. The link will say something along the lines of "start remote session" or other similar wording. Click on that link to download the program necessary for the support person to take control of your computer system. Once the download is complete, simply click the link to run the program. When the program is running, you will receive a passcode and an ID number. These are the only two things that the support person will need to do his/her job for you. You will see the mouse arrow moving from here to there as the support tech works his/her magic, and once the job is complete, he/she log out and no longer have access to your system. The passcode and ID you provide in the beginning is only good for one-time use, so there are no security worries. That is all there is to it.
If you would like to book a remote computer support session, please call us on 0203 051 7977
When it comes to our hard drives, we trust them to keep our stored items permanently safe. Unfortunately, this is a mistake, as computers can experience problems with a dead hard drive or you can get an error telling you "hard drive failed." In either situation, data recovery can be very difficult or even altogether impossible. The question to be answered here, though, is why do hard drives fail? The answers below will provide you with the three most common causes for hard drive failure.
Fluctuations of Power
One reason for hard drive failure is fluctuations of power. Power surges can be dangerous for the delicate electronic equipment in your computer. If a power surge does occur, then chances are that you can kiss your hard drive goodbye, as well as any important documentation that you have on the computer. For this reason, you should make the small investment of a power surge protector to help safeguard your computer system. Backing up important information can also be invaluable so that if there is a hard drive crash, you have a way to perform data recovery.
Shock
The hard drive of a computer is a very delicate thing made with great engineering precision. There are rotating platters moving at high speeds and the hard drives head writes and reads all data from a floating disk. The makeup of this piece of equipment can be compared to a single strand of human hair; that is how delicate it is! Continuous vibration can cause additional shock on the system and cause a catastrophic hard drive failure.
Excessive Heat
The hard drives used today are made to withstand a high amount of heat. However, too much exposure to heat can cause massive failure. This is something that happens a lot when it comes to laptops. Because laptops do not have the same airflow that is present in desktop models, overheating is a common issue with them. The only things that you can do to help prevent hard drive issues are to keep the ventilation system cleared out and purchase a cooling system to place under your laptop to help keep it cool enough to prevent a crash.
The bottom line is that hard drives can crash no matter how many precautions we take. The most important thing you can do is be sure to have a data recovery system in place.
In the event of disaster, Geeks on Wheels are here to help. In most cases we can recover data from dead hard drives. Check out our data recovery service
In May and June, local business, Geeks on Wheels, hosted free iPad training sessions for older people in the borough in their training rooms. At the sessions older people were introduced to the settings on the iPad, catch-up TV, Skype, Apple IDs as well as iPad applications and how to purchase and use them. The Geeks on Wheels team gave PowerPoint presentations and allowed plenty of time for questions and answers. People even brought their own iPads for individual help at the end.

Geeks on Wheels offer one to one and group training at their premises in 1A Kingsway, London, Finchley, London N12 0EW. They also offer remote technical support. For details of prices and their other services contact Geeks on Wheels on: 0800 107 4110 or email This email address is being protected from spambots. You need JavaScript enabled to view it.

Read Age Uk's newsletter about Geeks on Wheels free training
Why is the Apple IPAD so good?
Geeks on Wheels have found that the iPad is a phenomenal tool for the older generation, home use, students, and of course great fun for the kids. The IPad has a huge number of educational applications which can be found and downloaded direct from the apple store: The security that is used of an Apple device brings; the software developments that iOS developers have brought about and the amazing functionality of the device and you have just some of the reasons why we decided to promote the training of these devices to ensure our customers get the best out of them knowing they are secure and easy to use. There are many reasons why we think and Ipad device is a great tool.
They are:
• Portability
• Access – Access Wi-Fi location from anywhere
• Ease to use the device and Apps
• Download thousand of Apps for use
• Share media easily with friend and Family
Testimonial I was very pleased with the service from Geeks on wheels, I had no idea how to setup my computer that I had just purchased. Talal saved the Day. It's great to get an expert to save you time and money. Also, someone who you can trust. Arrived on time, stayed for 2 hours, provided training on my shiny new PC. Great Service love them.
Also called online backup, cloud backup is a way to backup your important files. To do this, a copy of the data you are backing up is sent over the internet to a remote server. There are many companies providing cloud services these days. The cost of cloud backup varies with each provider and user, but as a general rule, packages are divided into home, business and unlimited. The number of users and devices backing up to the cloud account can also affect the cost.
Cloud Backup Scheduling
Cloud backup systems are generally designed to backup your files in 3 main ways.
1. Manual - runs only when you request
2. Continuous - backs up your files as they are created and changed
3. Scheduled - backups up at specific times
The amount of control over scheduling in some cases will be dictated by the package bought by the customer.
Once a full backup of your data is complete, the backup software will only backup new or changed files. This is called an incremental backup. Your files will also be compressed on the cloud backup server to save space.
Cloud Backup Popularity
Backing up to a cloud service provided by a third party company has become very popular with home offices and other small offices. This is because it is extremely convenient, cost effective and reliable. Having a backup system that requires no user intervention means that you never forget to backup and have peace of mind.
Cloud Backup vs. Traditional Backup
When choosing if cloud backup is suitable for you there are 2 factors that need to be considered. How much data you have and how fast your internet connection is. If you try to backup a huge amount of data over a very slow internet connection it could take a long time to complete your initial backup. In that case it is best to use traditional backup methods.
Geeks on wheels offers unlimited cloud backup for home users for £3 per month. If you would like to talk to one of our technicians about cloud backup and the cloud services we offer, call us on 0203 051 7977. Alternatively, you can read about our cloud services here: Geeks on wheels - Cloud backup